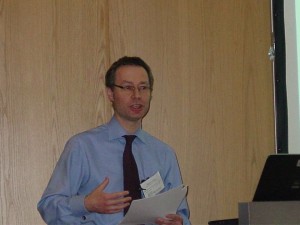 The Regulators' Forum meets on a quarterly basis and provides a unique opportunity to keep abreast of developments in UK economic regulation. It has delegates from: Ofcom, Ofwat, CAA, ORR, the Northern Ireland Utility Regulator, CICRA (the Channel Islands Competition and Regulatory Authority), Comreg, Monitor, Ofqual and the Water Commission for Scotland and has previously included Postcomm, Ofgem, the Legal Services Board and Consumer Focus.
Delegates receive a detailed presentation and briefing pack on developments in regulatory economics and regulatory policies since the previous meeting. This covers all the consultation and decision papers produced, bringing out common themes and highlighting novel ideas and approaches.
There is also a chance to discuss cross-cutting issues such as the use of impact assessments in regulatory decision making, the use of market research data as evidence for regulatory policies and the cross-over between competition and regulatory economics.
After lunch there is an opportunity to hear from eminent and distinguished guest speakers who reflects on a challenging issue facing economic regulators. Previous speakers have included distinguished academics:
Professor Martin Cave OBE
Professor Stephen Littlechild
Professor Jon Stern
Professor Tommaso Valletti
Dr Xeni Dassiou
Dr Andrew Smith
Professor Michael Pollitt
Professor Richard Green
Tim Tutton
and eminent practitioners:
Chris Bolt CB (former Chairman of ORR and PPP Arbiter)
Peter Culham (Chief Economist, Ofcom),
Robin Pratt (Chief Economist, Ofwat),
Tim Tutton (former Director of Regulation, National Grid)
Chris Kenny (Chief Executive, the Legal Services Board)
Sarah Chambers (Panel Member, CMA and former Chief Executive, Postcomm)
Richard Moriarty (Chief Executive, CAA and former Chief Executive,
Legal Standards Board )
Alena Kozakova (Chief Economist, Ofwat)
Michael Byrne (Chief Executive of the Channel Islands Competition
and Regulatory Authority)
John Smith (former Regulation Director at Railtrack and member of the CC/CMA)
Tim Brown (former Chief Executive, Postcomm)
Michael Grenfell (Senior Director, Sector Regulation, CMA)
William Hayter (Director, UK Regulatory Network)
David Black (Director of Economics, Ofwat)
Edward Ray (Director of Competition Economics, Ofcom)
Andrew Walker (Director of Markets and Performance, CAA)
Sean Browne (Consumer and Competition Policy Directorate, BIS)
David Stubbs (Chief Economist, Citizens Advice)
Rob Sheldon (Managing Director, Accent Market Research)
Find delegates comments on the Forum here
Please contact SLG Economics for more information about the Forum.